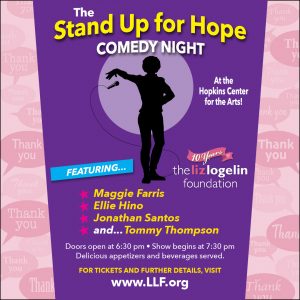 Stand Up For Hope to benefit the Liz Logelin Foundation returns with an epic night to celebrate our 10th year as a foundation! You'll laugh. You'll cry. Most importantly- you'll be giving Hope to widows, widowers and their families.
Saturday, March 16th, 2019 – 6:30 pm to 10:30 pm
Hopkins Center for the Arts 1111 Mainstreet Hopkins, MN 55343
Stand up comedy featuring Maggie Farris. Ellie Hino. Jon Santos. Tommy Thompson.
And of course we'll have a ton of great food and fun games to play and maybe win money instantly before the show starts!
It'll be a Blast! But it's also Important…
Over the past 10 years, hundreds of families have turned to The LLF for critical resources and support after the loss of a loved one. We, along with those we serve, would like to sincerely Thank our supporters from the bottom of our hearts. During some of the darkest times, you have been the Hope for many. You have helped families navigate their grief and let them know there is a community that supports and cares about them. You have made memorials of loved ones possible and sent children to camp. You have provided temporary financial relief- diapers, food, daycare, clothing and paid for sports and extracurricular activities.
You have made an impact on the lives of many and we are forever grateful.
We have more work to do
Whether you're a past supporter of The LLF or brand new to our community, we invite you to join us for an amazing night full of laughter and memories to bring Hope to many more families in need.
Sponsorship Opportunities:
Sponsorship opportunities are available for these events. If interested please send an e-mail to hello@thelizlogelinfoundation.org.