2nd Annual Stand Up For Hope!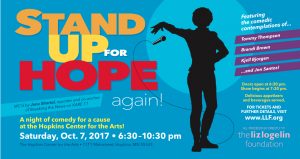 We are doing it again!
Stand Up for Hope to benefit The Liz Logelin Foundation is back again with an amazing line up!  Join us on October 7th, 2017 at 6:30 pm for games, a raffle and a gut – busting night of stand up comedy.  Performances by local comedians Tommy Thompson, Brandi Brown, Kjell Bjorgen and Jon Santos and MC'D by Jana Shortal, reporter and co-anchor of Breaking the News on KARE 11!